Seychelles, Portugal should exchange blue economy, renewable energy experience, ambassador says
Diplomacy

|

Author: Salifa Karapetyan Edited by: Betymie Bonnelame

|

March 27, 2018, Tuesday @ 16:04

|

4551 views
Maria Amélia Paiva was accredited on Tuesday at State House in Victoria. (Louis Toussaint)
(Seychelles News Agency) - Seychelles and Portugal should exchange more of their respective experience in the fields of the blue economy and renewable energy, the newly accredited Portuguese Ambassador to the island nation said.
The ambassador of Portugal, Maria Amélia Paiva, presented her credentials to President Danny Faure at State House in Victoria on Tuesday.
"I have been mandated to invite some officials from departments in Seychelles to visit Portugal to continue to work on strengthening and enhancing our relationship," Paiva told journalists afterwards.
The two diplomats touched upon the green and blue economy, areas that Paiva said she wants to promote to a better level of cooperation in her position as ambassador.
Her discussion with the president included how the two countries can work together to combat drug-related issues.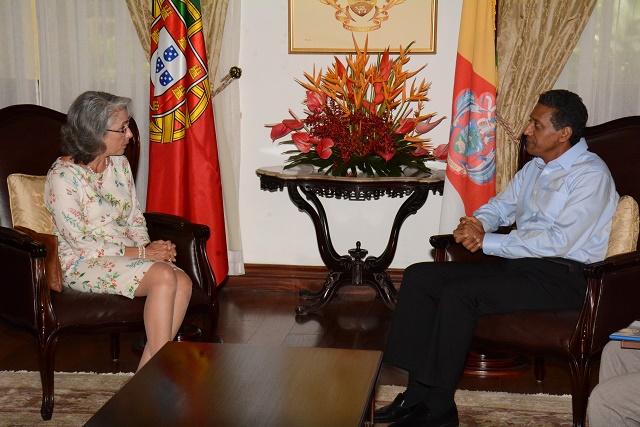 The Portuguese ambassador and President Faure touched on several subjects. (Louis Toussaint) Photo License: CC-BY
Another area outlined by Paiva, where Seychelles can benefit from Portugal, is within the cultural and historical field.
"I mentioned cooperation in the area of museums where we also can share a lot, as we have a huge tradition in the areas of the maritime museum and I believe there is also a will from the part of the Seychelles government to build a new museum in that particular field," said Paiva.
She affirmed that her government will work closely with that of the 115-island archipelago to attain these objectives. Overall, the newly accredited ambassador described the discussions held with the president as "very positive and constructive."
Ambassador Paiva will be based in Maputo, Mozambique.
Back