India gives Seychelles $ 8.4 million for new Magistrate's Court, 71 buses
General

|

Author: Daniel Laurence Edited by: Betymie Bonnelame

|

March 29, 2018, Thursday @ 10:37

|

4933 views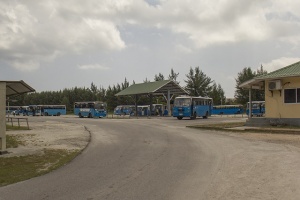 The Indian government is also giving a grant of $3.5 million to the Seychelles Public Transport Corporation (SPTC) to purchase 71 buses from TATA Motors. (Salifa Karapetyan)
(Seychelles News Agency) - The Indian government is giving financial support to five civilian projects in Seychelles amounting to $8.36 million, a communiqué from the High Commission said on Tuesday.
According to the statement, $3.45 million will go towards the construction of a state-of-the-art Magistrate's Court with all modern amenities.
"The tendering process has ended and construction work is expected to start soon. This would be the first construction project to be financed by India in Seychelles," reads the communiqué.
Presently, the Victoria Magistrate's Court is located in Block A of the Unity House opposite the bus terminal.
Seychelles, an archipelago in the western Indian Ocean, has a judiciary building -- the Palais de Justice -- that opened in 2013 at Ile du Port, a man-made island on the outskirts of the capital Victoria. The $6 million building financed by the Chinese government in partnership with the Seychelles' government does not have enough space to house the Magistrate's Court. 
The announcement of the grants comes amidst a controversy in Seychelles as to whether the island nation should allow India to use one of its outer islands -- Assumption -- as a military base. The government of Seychelles supports the plan but the opposition members in the National Assembly and many private citizens are against it.
The Indian government is also giving a grant of $3.5 million to the Seychelles Public Transport Corporation (SPTC) to purchase 71 buses from TATA Motors.
Earlier this month, the deputy chief executive Maxwell Julie told the press that the company which is operating 89 routes on a daily basis, is facing some serious operational constraints including a shortage of buses.
"This is caused in parts by the need to replace 71 SPTC buses that are constantly being repaired," said Julie.
The new fleet of buses which is expected to arrive in Seychelles by June will be equipped with modern features and are senior citizen friendly.
Two other agencies to benefit from a grant from the Indian government are Seychelles' Health Care Agency and the Anti-Narcotics Bureau which was formerly the National Drug Enforcement Agency (NDEA).
A sum of $385,000 grant will go towards the procurement of 10 ambulances and the setting up of an emergency response system at the main islands, Mahe, Praslin and La Digue. 
While ten swift response vehicles will be donated to Anti-Narcotics Bureau at an estimated value of $250,000 for interception of drug trafficking and control.
Back