With piracy defeated, Seychelles seeks UAE's support in shipping line talks
General

|

Author: Betymie Bonnelame

|

March 3, 2017, Friday @ 10:48

|

4207 views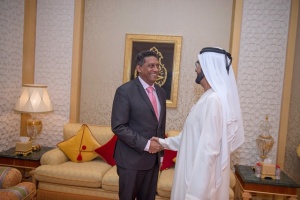 Seychelles' President Danny Faure discussed on trade and commerce with the UAE Vice President and Prime Minister Sheikh Mohammed Bin Rashid Al Maktoum. Seychelles (State House)
(Seychelles News Agency) - The President of Seychelles, Danny Faure, held discussions with the Vice President and Prime Minister of the United Arab Emirates, Sheikh Mohammed Bin Rashid Al Maktoum, on his first working visit to the UAE, State House said in a communiqué on Thursday.
Discussions centered on trade and commerce between Dubai and Seychelles, a group of 115 islands in the western Indian Ocean. 
Faure sought the support of Sheikh Maktoum in the facilitation of talks with the key operators of shipping lines serving the Indian Ocean now that the threat of piracy, which made the region a high-risk zone has been reduced considerably.
The main objective is to review the high insurance premium charge which is a significant factor in the cost of sea freight.  Any reduction would subsequently reduce the costs of imports and thus lower the cost of living in the Seychelles and in the region as well.
Faure expressed his gratitude for the formidable airline connectivity between Seychelles and the UAE which has played an important role in the improved tourism arrival numbers. This has resulted in consequential benefits for the economic and social development of the country.
In April 2016, the Seychelles Tourism Board (STB) signed a global marketing agreement with Emirates, the largest airline in the Middle East, on the sidelines of the Arabian Travel Market 2016 which took place in Dubai.
Emirates started flying to Seychelles in 2005 and had twice daily flights. In June 2015, the airline increased its flights' capacity by around 1,700 seats per week with the introduction of the Boeing 777-300ER
Air Seychelles, the island nation's national carrier, also partners with Etihad Airways and offers direct access to and from Abu Dhabi.
Back