Seychelles' communities help in protecting and conserving freshwater sources
Conservation

|

Author: Sharon Meriton-Jean and Betymie Bonnelame

|

July 14, 2016, Thursday @ 09:39

|

5746 views
The Rochon dam--one of the main water reservoir in Seychelles which can hold 50,000 cubic metres of water pictured during the rainy season. (Seychelles News Agency)
(Seychelles News Agency) - The Seychellois communities around five rivers and wetlands on the two most populated islands, Mahe and Praslin, are assisting with the protection and conservation of the freshwater sources as part of an ongoing project.
Under the ecosystem based adaptation for climate change project, five rivers have been targeted -- four on Mahe, the main island, and one on Praslin, the second-most populated island of Seychelles, an archipelago in the western Indian Ocean.
"The project is aimed at keeping the rivers sustainable by enabling the communities themselves to take care of the rivers through monitoring, maintenance of river banks and removal of invasive species," says Betty Mondon, who is in charge of community engagement.
The rivers identified for the project are important for agricultural purposes, and they are at Val d'endor and Mont Plaisir in the South of Mahe.
The others are wetland areas, such as at Caiman River and Mare aux Cochons, or as in the case of Fond B'Offay on Praslin, are the main water collection and treatment station, providing freshwater to the population.
The project manager, Betty Seraphine, says that this project is unique -- one that involves the forest, the rivers and the people.
"The project is seeking to enhance rivers and wetlands to improve water availability during droughts and reduce flooding risk during heavy rain so as to benefit the wetland ecosystem," Seraphine told SNA.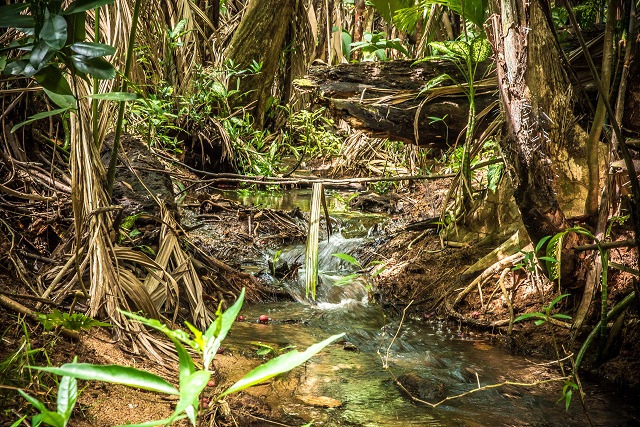 River at Fond B'Offay on Praslin. Five rivers and wetlands on the two most populated islands, Mahe and Praslin, have been targeted for the project aimed at protecting fresh water sources in Seychelles. (Gene's Photography) Photo License: CC-BY
Now in its second year of implementation, the ecosystem based adaptation to climate change project, costing around $6.5 million, is funded by the United Nations Development Programme (UNDP) and the Global Environment Fund (GEF).
Many local partners are also providing their support to the project by finding ways to encourage communities to take care of the rivers in their residential areas on both islands.
"We drink and use water every day, so why not protect it for years to come, so that others as well can benefit from this important resource," says Jackson Magnan, the Chairperson of Baie Lazare watershed committee.
Other committees have been set up to raise awareness and promote good use of freshwater sources.
Although Seychelles -- with a population of 93,000 -- receives an average rainfall of 2,300 millimetres per year, water shortage is still a concern especially during the dry south-east monsoon, from May to October.
The topography of the islands causes much of the rainfall to go down as surface run-off and to compensate during the dry season a total of 1 million cubic metres of desalinated water is produced from four desalination plants every year. 
Since last year, Seychelles has started exploring groundwater as the second source of water for the islands.
Back