Seychellois artist woos fans in England with seggae beat
Arts & Culture

|

Author: Julia Malbrook and Betymie Bonnelame

|

March 21, 2016, Monday @ 10:32

|

3916 views
Golty Farabeau is due to release a new album is March and is also actively introducing his fans in England to Seggae, a musical fusion of reggae and traditional Sega beat. (Golty Farabeau)
(Seychelles News Agency) - Seychellois singer Golty Farabeau is introducing seggae to his English fans with the aim of promoting Seychelles' music and culture.
The 54-year-old Farabeau is well known in Seychelles for his Creole reggae songs. He left for England in 2003 and had since been building his musical career with his band Jahmadou, hitting fans with fresh Creole tunes. 
"I am currently introducing seggae in both English and Creole, and it has a very positive response. I'm hoping it will promote the Seychelles and our culture," Farabeau told SNA.
Seggae is a musical fusion of reggae and traditional Sega beat, which started in Mauritius, then spread to Reunion and Seychelles, a group of 115 islands in the western Indian Ocean.
Seychellois singer Golty Farabeau has been promoting Seychelles music and culture in England for the past 13 years. (Golty Farabeau) Photo License: All Rights Reserved
New album scheduled for March release 
Farabeau is currently working on his soon-to-be released album and says he plays most of the instruments in the songs that will feature on the album. Both Sega and Seggae are prominent on the album.
"It's different to anything in the musical scene in England at the moment. I am interested to see how people would respond. I honestly don't know if it will be popular, but at least I can say I tried," said Farabeau.
The England-based Seychellois singer has released some tunes for a sneak peek of his album on the social media. One that captured SNA's attention is 'Run Away' dedicated to all innocent people who are displaced through war, including the refugees of Syria who are suffering from five years of war.
Getting a touch emotional, Farabeau said, "Who can watch the images we are all seeing on our TV screens and not be moved by the plight of the displaced children? I have always cared about people."
Farabeau hopes that his new album reaches Seychelles, the homeland he still loves, and shows his people what he and his band have been doing in England for the past 13 years.
"I feel a little forgotten by the music industry in the Seychelles, but hopefully, this can change when people hear my new album."
The Seychellois artist started playing guitar at age 9 and performed for the first time at 18. Mentored by now deceased artist Jocelyn Perreau, Farabeau experimented with reggae and Sega. During his career in Seychelles he produced several albums.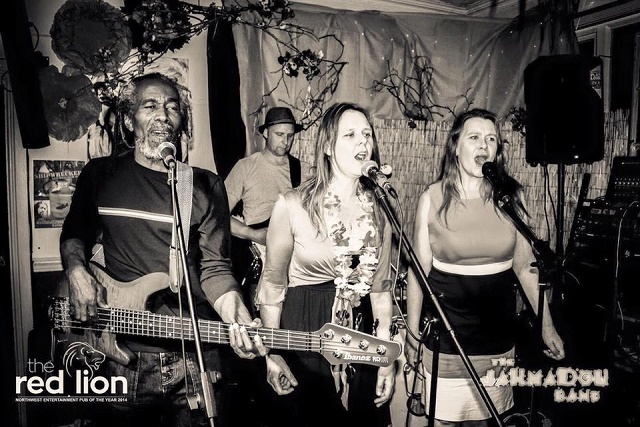 Golty is not only a singer but also plays several musical instruments. Building his musical career in England he is backed by the Jahmadou band. Photo License: All Rights Reserved
Singing in a land of high competition
Farabeau tells SNA it's hard making music in England since the competition is high as many artists try to make their way to the top. It is even harder promoting Creole so at some point he followed the common international trends.
"To be honest, I have gone with the international trend at times playing my own reggae songs and those of Bob Marley because it's popular. I continue to compose my music in Creole and introduced it to fans because I love it, and I am proud to be Seychellois," said Farabeau.
He tells SNA that people in England enjoy his music as he sometimes gives them a mix of English and Creole and other music genres.
During his 13 years in England, Farabeau has produced three albums which he believes has not received the adequate promotion. He wants things to be different with his upcoming album.
Back