Through the eyes of a young islander: Sonam Tsultrim talks climate change and dreams of a better future
The Interview

|

Author: Hajira Amla

|

November 21, 2014, Friday @ 09:26

|

4150 views
15-year-old Sonam Tsultrim is relaxed and animated in front of a microphone. Passionate about the environment and her native island home of Seychelles, she is an active young 'eco-warrior' for the Seychelles Ministry of Environment and Energy (Jeanette Larue/MEE)
(Seychelles News Agency) - 15-year-old Sonam Tsultrim, a student at Anse Boileau secondary school in the western part of the Seychelles main island of Mahe, wowed delegates at the Alliance of Small Island States (AOSIS) conference held in Seychelles on November 11, where she read out a heartfelt plea to the United Nations Secretary General, Ban Ki-Moon, appealing for more action against climate change.
Speaking on behalf of all island states facing imminent threats from the effects of climate change, Sonam left a great impression on all who attended the conference's opening ceremony, including the Seychelles President James Michel and ministers and high-level environmental experts from around the world.
Sonam's letter to the UNSG eloquently expressed the frustration and feelings of powerlessness experienced by islanders around the world in the face of rising sea levels and rapidly-warming oceans:
As the water boils up our main source of income is rapidly disappearing, leaving us with only bleached corals. All marine life that once roamed our reefs will be extinct and it's sad to say that our future generation will not get the chance to see them first hand but rather in a secondary source like pictures and books.
This really isn't what I would like to see happening by 2020. I have no intention of seeing a dull grey sky stained by interminable serpents of smokes or a bilious tinted ocean and rivers. On the other hand, if we follow simple instructions of how we can save our planet, I would definitely much rather enjoy this view; surrounded by a hale hearty green environment, sky as blue as a jay's wings, the ocean which remains ever azure and majestic, air fresh as the sea breeze and most importantly my home still 'afloat'.
Therefore Mr. UN Secretary General I urge you to do what you can as these matters are of great importance and affects the whole humanity.This is no longer a child's play; this is a matter of our race's existence and extinction, which will mostly be the latter given if our pleas are not heeded. There is a saying which goes "The chains of habit are too weak to be noticed until they are too strong to be broken" and these chains only seem to be getting stronger by the ticking seconds. I speak on behalf of all SIDS natives to save our islands from submerging any further, for this is my humble appeal.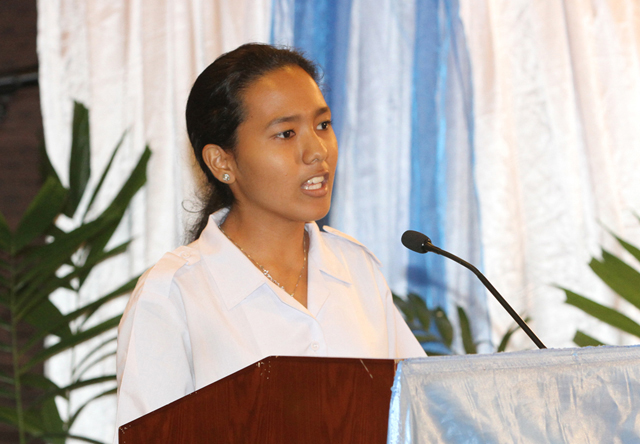 During the opening of the AOSIS conference on November 11, Seychellois student Sonam Tsultrim read a letter addressed to the United Nations Secretary General, Ban Ki-Moon, appealing for more action against climate change. (Mervyn Marie, Seychelles News Agency) Photo licence: CC-BY
Sonam's involvement in climate change began when she was still in primary school, with the commencement of the school rainwater harvesting project at Anse Boileau primary school, initiated by the Seychelles Ministry of Environment and Energy (MEE).
The schoolchildren had to find a way to harvest rain water from the roof of the school as a means of adapting to climate change, especially during periods of drought.
According to the Ministry's Coordinator of Environmental Education, Jeanette Larue, the project necessitated a small amount of scientific research to be carried out by the students at school level and Sonam excelled at this task and participated in countless exhibitions to explain the project to the public.
"She also participated in many climate change workshops which were organized as part of the project where she learnt about climate change," said Larue. "She forms part of a children's climate change action group, mainly to raise awareness on climate change, again as part of the school rain water harvesting project."

In 2011, the school rainwater harvesting project won an award for the 'Momentum for Change', at the COP17 conference in Durban, organized by the United Nations Convention on Climate Change (UNFCCC), and Sonam was nominated to attend the international event in Durban.
The rest, as they say is history; Sonam has been active in her climate change action group since then, proving her mettle as a young 'eco-warrior'.
SNA caught up with Sonam to find out more about the young person behind the activism, her background and her aspirations for an obviously bright future.
SNA: Can you explain to us a bit about your family's background and heritage?
ST: Growing up I was always brought up in a disciplined, encouraging and peaceful manner. As a child I was constantly taught by my parents, sibling and relatives about the ethics of wrong and right in living. My mother is a Seychellois and my father being a Tibetan tends to have an Asian way of bringing up a child which is being focused and determined in the endeavour to achieve your objective in life. My parents are really one of a kind actually, my mother is a Catholic and my dad's a tibetan Buddhist, it isn't that much of a frequent happening.
SNA: You are just 15 years old but already the whole of Seychelles was talking about you last week – tell us a little bit about your life and how and why you became interested in the environment.
ST: I was taught to lead a simple, humble and rightful life. My interest for the environment started out with a science fair project in P6 (rainwater harvesting) under the guidance of my science primary teacher and later encouraged into further recognition by Ms Jeannette Larue. Thinking back into the catastrophic tsunami event that struck us in 2004, this made me realise just how dangerous the life is for islanders like us. This spurred me into thinking of how I can make the world aware of the dangers we face and how the world can help us to survive these sorts of disasters. Furthermore, when I attended the COP 17 in Durban in 2012 (I was only 13 years old) to talk about the science fair project, it somehow urged me to seize the opportunities I get to highlight environmental issues.
SNA: What groups and activities are you involved in at the moment?
ST: Currently I'm booked with my exam preparations, in fact I sat one today (Tuesday November 18). Otherwise I would most definitely be taking part in public speaking competitions where I actually developed my communication skills, science fair projects which again not so long ago I did, volunteering in helping out the school with school activities such as quizzes, national and international essay competitions and as well as helping out with the environment issues or taking up the role of MC in some functions.
Ever since she got the chance to design a rainwater harvesting project in primary school, Sonam has been actively involved with the Seychelles Ministry of Environment and Energy as a young 'eco-warrior' (Jeanette Larue/MEE) Photo License: All Rights Reserved
SNA: You obviously feel a fierce love for Seychelles and islands in general which came across strongly in your letter to the UN secretary general – what prompted you to write this letter?
ST: To be honest it was a competition open to all which was on the news paper and also circulars sent to school. It was my parents and Ms Jeannette who encouraged me to take part in it, but I had a deep conviction about the survival of the island I live in especially after the devastating tsunami catastrophe in 2004 which I personally went through at Anse a la Mouche. That left a deep impression on me to fight for the cause of the survival of islands like ours. I figured that if it's not me, who? And if not now, when?
SNA: How did you feel when reading it out at the AOSIS conference – were you nervous?
ST: I was a bit anxious initially but I soon overcame it. Since I have written the letter myself I felt rather at ease and confident while delivering it.
SNA: Are you expecting a response from the UNSG?
ST: Speaking as an individual I don't expect a response from the UNSG but as I spoke on behalf of all the SIDS, we should not be ignored.
SNA: Do you think your letter would change anything about the UN's approach to climate change?
ST: I hope that my letter would have a positive effect on the UN's approach to climate change, because our grievances are genuine.
SNA: What do you think the world is doing wrong when it comes to fighting climate change and what would you do to change this if you were the Secretary-General?
ST: I strongly feel that the main issue is that the big brothers (big industrial countries) producing massive amounts of pollutant to the air in the greed for money and supremacy are the ones leading to the detrimental climatic effects on the islands and themselves also. Therefore if I was the UNSG I would convince them to reduce their carbon emissions and make them understand that they are responsible for the survival of the human civilisation.
SNA: Who is the most influential person (or people) in your life and why?
ST: Easy, my parents this is because they were my first teachers and guide in my life, teaching me what is wrong and right and what is good and bad. Secondly, my teachers who have helped in shaping my future; if I am who I am today I owe it all to them.
SNA: In addition to your love for the environment what other hobbies or passions do you have?
ST: Besides my enthusiasm for environment I also enjoy travelling, seeing and experiencing different cultures. I am an avid reader, I enjoy art, I have a strong passion for animals (especially dogs) and moreover, I am a child of the sea. It is safe to say that I have salt water running through my veins.
Sonam attended the COP17 climate change summit in Durban in 2013 at the tender age of 13, increasing both her environmental knowledge and her speaking skills, which has enabled her to speak and MC at many other events (Jeanette Larue/MEE) Photo License: All Rights Reserved
SNA: So far what are your aspirations for the future in terms of tertiary education and career?
ST: I actually plan on branching out into medicine as my dream is to become a surgeon. I strongly believe that a person should follow his/her dream or passion. I have a strong faith that if a person is passionate about what they want to be then they will do it wholeheartedly with no regrets and succeed. And that is what I plan to do.
SNA: In terms of the Seychellois youth who are now growing up, do you think that they are more environmentally aware than the older generations? Do you feel that Seychelles' natural heritage will be safe in their hands?
ST: I am positive that the younger generation is more aware of what we are facing than the older generation. Truly speaking they need a moral shake up and to be more disciplined and focused in their lives as now there are more dangers of falling into bad habits. If these above conditions are met by them then for sure our future and natural heritage is safe.
SNA: What is your motto in life?
ST: Simple, it is to "never give up because dreams become reality through effort".
Back