The global community needs to invest more in oceanic research, says Seychelles president at UNDP-GEF event in Samoa
Diplomacy

|

Author: Sharon Uranie

|

September 2, 2014, Tuesday @ 20:25

|

3403 views
President James Michel (first right sitting) at the UNDP-GEF event co-chaired by the UNDP Administrator Helen Clark, and the CEO and Chairperson of GEF Dr. Naoko Ishii. The President of Palau, Tommy Remengesau and the Ambassador of Grenada to the US, Dr. Angus also participated. Seychelles, Palau and Grenada are the co-chairs of the Global Island Partnership, GLISPA. (Mervyn Marie, Seychelles News Agency)
(Seychelles News Agency) - The Blue Economy being the centre of sustainable development for small island states was the focus of Seychelles President James Michel's address today, as he joined a high level panel in the margins of the UN conference on SIDS, in Samoa.
The event themed 'From Ridge to Reef and beyond- From Small Island States to Large Ocean States' was co-chaired by the United Nations Development Programme (UNDP) and the Global Environment Facility (GEF).
According to a statement released by State House this afternoon, Michel called for the effective management of oceans where SIDS are empowered to do so. He also stressed on the role of the youth in the development of SIDS and in creating a Blue Economy.
"We must also engage our young people. We must build the understanding of our ocean as common heritage, and as opportunity for a new generation. We must encourage innovation, and entrepreneurship that looks to engage with the sea in new ways," he said.
The Seychellois head of state also talked about steps being taken by the Indian Ocean archipelago to protect more marine areas of its oceanic zone.
The Seychelles Ministry of Environment and Energy is in the process of drawing up a Marine Spatial Plan (MSP) with the technical support of 'The Nature Conservancy' (TNC ) which will clearly demarcate areas designated for fishing, recreation, oil exploration and tapping as well as harnessing of renewable energy sources.
Michel noted that Marine Spatial Planning is a critical tool for islands to effectively make use and sustainably manage their oceans and seas. 
The Seychellois president also acknowledged what he called the African Union's 'recognition that Africa's oceans have yet to truly benefit Africans' saying he is proud that the organisation has made the Blue Economy a key part of its Agenda 2063.
Michel also thanked the Commonwealth for their initiative in assisting Seychelles to develop its Blue Economy Planning based on objective data available while calling on the global community to invest more in oceanic research.
 "……. Most islands that are blessed with a large EEZ do not have the technology or the manpower to engage in the research required to properly negotiate commercial agreements that are based on scientific principles or the collection of objective data. We are reliant on partners to assist us with this," he said.
President James Michel speaking at UNDP-GEF event in the margins of the UN conference on SIDS in Samoa today. (Mervyn Marie, Seychelles News Agency) Photo License: CC-BY
Michel also addressed another event on the second day of the third international conference on SIDS in Samoa.
At the high level panel discussion organised by the Commonwealth and the UN Department for Economic and Social Affairs (UNDESA) he called for the introduction of a Vulnerability index.
This he said would ensure that small islands states get a 'fair deal' within the global development architecture and affordable financing for development projects.
According to a State House statement released this afternoon, Michel said that a Vulnerability Resilience Profile (VRP) is a key tool in better understanding the challenges faced by SIDS.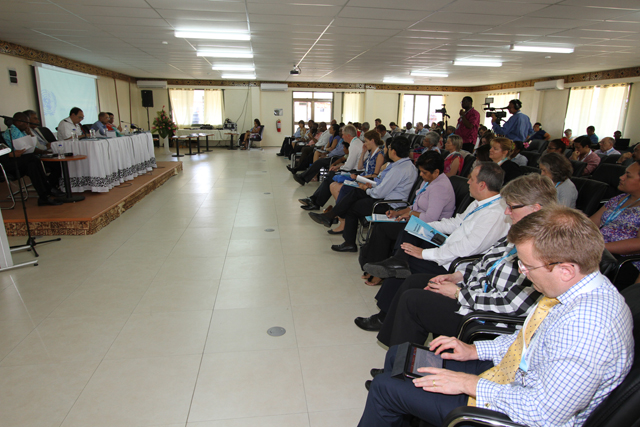 Participants at the high level discussion organised by the Commonwealth and the UN Department for Economic and Social Affairs, UNDESA. (Mervyn Marie, Seychelles News Agency) Photo License: CC-BY
The European Union is currently working with the Commonwealth and UNDESA to develop the VRP.
"The underlying methodology of the VRP is unique and at the same time extremely relevant as it spans the whole spectrum of sustainable development; by analysing vulnerability and resilience parallel with the three pillars of sustainable development i.e. economic, social and environmental, it provides for a very robust method….I want to make clear- countries such as Seychelles do not just necessarily want aid- we do not want just handouts. But we need access to development mechanisms that recognise our fundamental vulnerability," said Michel.
He stressed that a Vulnerability consideration would enable SIDS to be considered as an exception within financing mechanisms noting that SIDS cannot afford commercial loans for large infrastructure projects as they are not feasible for small island populations.
"We are vulnerable. We face unique challenges. But we are far from weak. We are prepared to be innovative in addressing our development challenges. We are prepared to try things that many others may not find politically expedient. We are able to act fast and bring real improvements to the lives of our populations, if we are given the right tools to do so."
President James Michel and Commonwealth Secretary General Kamalesh Sharma (Mervyn Marie, Seychelles News Agency) Photo License: CC-BY
The theme chosen for the third international conference on SIDS in Samoa is 'The sustainable development of small island developing states through genuine and durable partnerships'.
The gathering which is bringing together some 3,000 dignitaries from 193 UN member states including heads of state, ministers, private sector businesses, academics, NGOs and journalists, will end on Thursday September 4.
Back