Air Seychelles to restart flights to Madagascar on seasonal basis twice weekly
Business

|

Author: Betymie Bonnelame

|

February 13, 2019, Wednesday @ 14:46

|

11495 views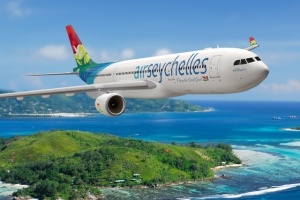 The twice-weekly service to Madagascar will be on Wednesdays and Saturdays from July 3 to October 26. (Air Seychelles)
(Seychelles News Agency) - The Seychelles' national carrier, Air Seychelles, will once again be flying to the capital of Madagascar, Antananarivo, this time with seasonal flights, the airline said on Wednesday.
The twice-weekly service will be operated by the airline's Airbus A320 on Wednesdays and Saturdays from July 3 to October 26. Seats are on sale as from SCR7990 ($585) including taxes.
Air Seychelles suspended its services to Antananarivo in April last year as part of its new strategic transformation plan aimed at ensuring the long-term profitability and sustainability.
"We have reviewed the market and have identified that during the summer season there is an increasing demand for travel to and from Madagascar," said Charles Johnson, the airline's chief commercial officer.
Johnson added that the decision was taken to ensure that "we capture the business and to further meet the demands of the passengers we have taken the commercial decision to bring Madagascar back into our network as a seasonal operation during the upcoming summer season."
Madagascar is only two and a half hours away from the Seychelles, an archipelago in the western Indian Ocean.
Johnson said, "It is the ideal place for business including leisure travellers looking for a quick getaway during the holidays or even to combine their trip with other destinations Air Seychelles operates."
The announcement comes two days after Seychelles assumed the presidency of the Vanilla Islands which includes Mauritius, Madagascar, Comoros, Reunion, Mayotte and Maldives. The concept was created in 2010 by tourism professionals of the six islands to strengthen tourism initiatives between the islands and help implement bilateral initiatives.
Air Seychelles was established in 1978 and began long-haul service in 1983. The airline maintains a strategic partnership with Etihad Airways, the national airline of the United Arab Emirates and 40 percent stakeholder.
Currently, the airline offers flights to Abu Dhabi, Johannesburg, Mauritius and Mumbai, complementing its domestic services. 
Back